The Vatican State Affairs Office, also referred to as the Foreign Affairs office and commonly known as the Palazzo Spada, is the headquarters of the Ministry of Holy Affairs and its special forces division, the Papal State Affairs Special Operations Section ("AX").
Description
Edit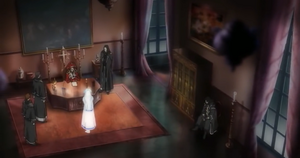 The Palazzo Spada is an ornate castle, decorated with ancient heroes and goddesses. Its ostentatious stone facade is reminiscent of an ancient Graeco-Roman pagan temple. Generally regarded as a conspicuously beautiful building, it was deemed "dignified enough" to serve as the headquarters of the Ministry of Holy Affairs and its special AX division.[1]
Built on the western side of the River Tiber, the Palazzo Spada is located within the Vatican headquarters complex in Rome, the capital of the Vatican Papal State.[1] The castle houses offices for members of both the Ministry of Holy Affairs and the AX, including the office and laboratory of Cardinal Caterina Sforza and William Walter Wordsworth, respectively. It also contains a courtyard where officials can congregate outside, as well as a cafe which serves herbal teas made by AX Agent Kate Scott.[2]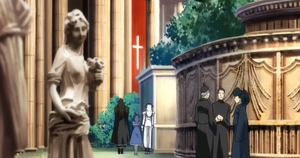 As the center of the Vatican's diplomatic activity, the Palazzo Spada was frequently visited by ambassadors from every nation in the international community.[1] Constructed in the Post-Armageddon era, the Palazzo Spada served as the headquarters of the Ministry of Holy Affairs and the AX department. By the mid-31st century AD, Cardinal Caterina Sforza directed most of the official diplomatic business of the Ministry of Holy Affairs from her office in the Palazzo Spada.[3]
Additionally, she oversaw the foreign[4] and domestic activities of the AX,[5] receiving occasional reports on the progress of her agents from Kate Scott. Sforza also used her private office as an audience chamber where she could debrief AX agents in person.[6]
Appearances
Edit
Notes and References
Edit
Community content is available under
CC-BY-SA
unless otherwise noted.