Noélle Bor, codenamed Mistress, was a female human nun associated with the Saint Mercedes Convent of the Catholic Church, the state religious body of the Vatican Papal State. In addition to her role in the community of nuns, Bor was employed in the Ministry of Holy Affairs. Her service to the foreign affairs department extended to its special division—the Papal State Affairs Special Operations Section ("AX"). Despite her retirement from the AX by 3060 AD, Bor continued to work with the department as an undercover agent in Barcelona. During this time, the Catalonian capital was plagued by several apparent earthquakes, all of which were ultimately caused by the Silent Noise weapon. The final attack, conducted by the Rosencreutz Orden on behalf of the Neue Vatican, resulted in Bor's death—but not before she discovered several clues that later enabled the AX to prevent Operation Silent Noise. As a result, Rome and the Vatican were saved from destruction due in part to Bor's sacrifice.
As a mutated human, commonly known as a witch, Bor had the power of visual empathy, an ability that allowed her to discern another person's emotions. She also possessed clairvoyance—an ability which enabled her to track where people have gone by following their emphatic residue (as shown through her eyes glowing and being able to see illuminated foot prints in a room). In the novels, she is also shown to have speed and strength beyond that of the average human.
Noélle is an attractive and endowed woman with long wavy black hair that has bangs styled on either side, dark grey eyes and dark red lipstick.
She wore a standard white and blue nun's habit without the underskirt, and is also seen in normal civilian clothing in RAMII. She has visible black stockings held up by a garter belt as well as white kitten heels.
Her arcana in Thores' tarot cards is The Lovers.
Rage Against Moons
Noelle appears in RAM II, six months after she retired from the AX to Saint Mercedes Church. It is explained that she was assigned to infiltrate the Dominic Company as no other AX agents were available at the time. She had correctly deduced that Director Dominic was James Barrie, who had changed his name and face. Later, Abel Nightroad declines Isaak Fernand von Kämpfer's offer to help the Orden transport the Silent Noise in exchange for Barrie's human experimentation data, where kills Noelle in the process after Isaak activates the Silent Noise.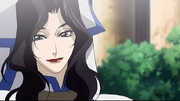 Noelle has romantic feelings for Abel Nightroad. After meeting Esther Blanchett in Rome, Noelle confesses her feelings to Abel while she and Abel were on assignment in Barcelona. Although he receives her confession gracefully, he gently lets her down by telling her he is truly blessed to have such a "special friend". After her death at the hands of Isaak Fernand von Kämpfer, Abel is devastated and consumed with guilt about not being able to save her and to the point that he almost quits the AX.
The name Noélle means "Christmas" in Latin and Old French.
Noélle's surname Bor is the habitational name from the village of Bor in Belarus.
↑ Note: In the Trinity Blood anime series, Noélle Bor remained an active member of the AX until her death in Barcelona.
Community content is available under
CC-BY-SA
unless otherwise noted.