Lilith Sahl
リリス・サール
Personal information
Aliases:
Crusnik 04
The Naia Sancta
"The Black Saint"


Lilith

Status:
Deceased
Birth:
2085 AD
Death:
2220 AD
Age:
135 (death)
Gender:
Female
Species:
Crusnik
Team:
Cain Nightroad
Abel Nightroad
Seth Nightroad
Other information
Novel debut:
The Angel of the Burning Sands
Manga debut:
The Sleeping Beauty (flashback)
Anime debut:
Witch Hunt
Japanese seiyū:
Misa Kobayashi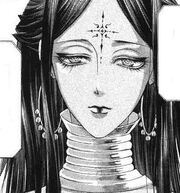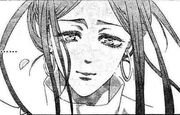 Lilith, along with Elissa Dal Schleid, created Iblis, the Angel of Desert, sandstorm to protect Carthago from its enemies. She made a bet with the Elissa, queen of Carthago, that Abel had some humanity still left in him: If he could bringing back even a single human with him, he would be able to shut down Iblis, and Lilith would win the bet.

Abel sees Lilith in a pre-recorded hologram in the undergrounds of Carthago, as he tries to shut down the Iblis to save the city. Lilith sadly tells to Abel that she along with Elissa would've preferred to bury the town than handing it over to the methuselah. She tells him that she knows that he only became Contra Mundi because he loved, believed, and was betrayed, but he still loves this world and the people in it.
Only a survivor... the ones that you hate... can save you now, Abel.
(To Abel) Good Morning. Abel. 0448 hours. Isn't that a little early... for a sleepyhead like you?
I know that you still love this this world. Although you have become an enemy of the world. But... That is just reverse of love.
Community content is available under
CC-BY-SA
unless otherwise noted.