Bridget II was the Queen of the Kingdom of Albion until her death in 3064 AD.[1]
The Queen was said to be gravely ill and she does not appear in person. The order of succession is in question as she has no legitimate living heir.
As the Albion parliament discuss their failure to eradicate the Methuselah living in the Ghetto, they are told of the Queen's deteriorating condition. Jane Judith Jocelyn mentions to Mary Spencer that it will be the last chance she has of seeing her grandmother.
Mary takes Esther Blanchett to see Queen Bridget II (Mary's grandmother), and informs her she has to leave. Mary reveals that her mother was named Harriet and Harriet was the former Viscountess of Carslie. She explains to Esther that the Queen hated her mother for stealing her son and that she didn't consider Mary as her grandchild. Esther insists she stays, but Mary informs her she has unfinished business to attend to, before leaving the room with a cryptic expression.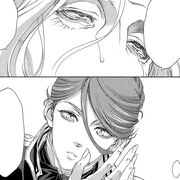 The Queen, who could no longer see clearly, mistakes Esther for Mary and beings to apologize to her granddaughter. Bridget reveals how guilty she had been all these years for neglecting Mary, mainly because the dukes forced her into that position, knowing they would have rebelled or assassinated Mary if she didn't allow them. Bridget names Mary as the next Queen, and then tells 'Mary' that she never hated her, but was reminded her mother killed Princess Victoria and her child every time she saw her. Yet, at the same time, Bridget did not look for her missing granddaughter because she knew the truth would harm Mary. The Queen dies in tears shortly after this.
At the time of her death, Bridget II prophesied the coming of Esther Blanchett, the "Star of Hope" to Virgil Walsh. Crown Prince Gilbert (the heir to the throne and the only son of Bridget) was previously assassinated by the Orden. Even though her country is not starkly religious and independent of Vatican authority, she is stated as being a Catholic in private. As Queen, she was described as an amazing person, able to keep the Methuselah from rebelling for years under her leadership. The Methuselah radicals claim it was done through oppression, and some believe only the younger generation would be able to truly understand them and bring change. From a painting of the Queen, she does in fact have high similarities with Esther.
Community content is available under
CC-BY-SA
unless otherwise noted.