Agnes de Watteau
Personal information
Residence:
Antwerp
Gender:
Female
Species:
Human
Occupation:
Novice nun
Relative(s):
Hugue de Watteau (Cousin)
Other information
Novel debut:
RAM I: Sword Dancer.
Anime debut:
Episode 6: Sword Dancer
Japanese seiyū:
Hoko Kuwashima
English V.A.:
Jamie Marchi
Agnes de Watteau is a novice nun from a church in Amsterdam.
Rage Against Moons I: Sword DancerEdit
It is mentioned that Agnes had been taken in and raised by the church from the age of five and her father was mentioned to be a knight of the Watteau family. Agnes was sick and was sent to her wet nurse's home when her parents and everyone she knew was killed.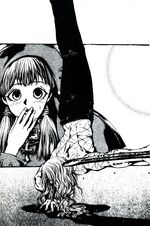 Hugue de Watteau
(Agnes' cousin) was sent to investigate a vampire attack that had killed several clergy members in Amsterdam. Hugue was able to kill the vampire that had tried to capture Sister Agnes, the only survivor and also Hugue's distance cousin, but was soon captured by minions of Count Karel van der Verf. Hugue is chained to a pit and was about to lose the fight until Sister Agnes retrieves his weapon for him. The nun is subsequently stabbed by Count Karel, infuriating Hugue. Karel reveals that Jan van Maylen, a terran childhood friend of Hugue and kin of the Watteau family, hired them to attack the Watteau clan. Before Karel is able to say who attacked the house, a masked man, possibly Count Gie, kills Karel. Hugue was about to chase after him, but decides to stay to help the unconscious bleeding nun instead.
Agnes makes her first appearance in Sword Dancer. Father Hugue de Watteau is sent to investigate the mass murder of clergymen that took place at a church in Amsterdam. Hugue rescues Sister Agnes, the sole survivor of the attack on the church, from a vampire who attempts to take her away. The two are later captured and brought to a regional vampire whose intention is to use a machine to probe Agnes's memories to find out who is responsible for the murders. Agnes is released after data is extracted from her memories; Hugue, however, is bound and placed in a pit in which he must fight for his life against a werewolf. Agnes, refusing to allow Hugue to die, retrieves his staff and throws it down to him. The regional vampire stabs Agnes in retaliation, which sends Hugue into a murderous rage. After making quick work of the werewolf, he kills all of the vampires in the building. Afterward, it is revealed that Agnes survives her injury and lives to see another day.
Whether or not the two are related in the Anime is unknown.
Etymology
Edit
Agnes originates from Ἁγνὴ hagnē, a Greek name meaning "pure" or "holy".
Watteau is a French surname and Jean-Antoine Watteau was a famous French artist.
Community content is available under
CC-BY-SA
unless otherwise noted.